Desk of President
---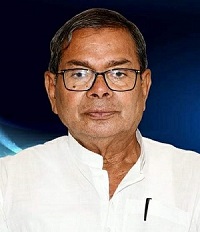 It gives me immense pleasure to be a part of the nurturing team of Sagar Mahavidyalaya, Harinbari that has taken great strides in all spheres of its academic and co-scholastic development. A college should not merely be gauged by its infrastructure but also b valued for its purpose and sincerity in creating sensible and sensitive future citizens of the country. The nature of education is rapidly changing in India. Therefore, our students are allowed to blossom naturally through their hard work in an enabling and amicable environment created by the teachers and the staff of the College, which is conductive to learning and self-development.

The teachers and the staff work as mentors and guide to help the students realize their true potential. I am sanguine that a synchronized effort is being made by the teachers of the College towards achieving this aim and to ensure an all-round and holistic development of every student in the College.

I am more than optimistic that the college will continue its pursuit of excellence in the coming years.
" You don't have to be great to start, but you have to start to be great."
-Zig Ziglar